As most of us have probably figured out by now, there are no guarantees in life. No matter how much we may desire for things to stay the same, change is inevitable. Living with the uncertainty of life on a day-to-day basis is a challenge for many of us.
What is not so obvious is the treasure that can be mined or discovered within this mountain of stress, doubt, frustration, and fear.
Meeting this challenge head-on brings so many rewards and benefits that are not visible without taking the plunge into the unknown.
"I spent a lot of years trying to outrun or outsmart vulnerability by making things certain and definite, black and white, good and bad. My inability to lean into the discomfort of vulnerability limited the fullness of those important experiences that are wrought with uncertainty: Love, belonging, trust, joy, and creativity to name a few."
Living With The Uncertainty — Conditioned to Fail
The majority of people on the planet have been conditioned to fail. When we land here and open our eyes, we have no idea of what we are in for. Dependent on circumstances, we may thrive in our early years and be well-prepared for adulthood. Unfortunately, this is not the case for the majority of us. Our parents did not receive a manual on how to prepare us for life when we were born.
Friends, family, the educational system, government interventions, religion, and other outside factors also have done their best to beat us down into conforming with the "way things are". A few of us were able to bypass some of this and emerge relatively unfazed by this conditioning and then were able to move forward in life with confidence and determination.
But those of us who were not so fortunate were left with a mighty challenge on our hands, especially if it was our intention to succeed and make a difference in our lives and in the lives of others. Many times we were not even aware of our predicament until we had some "aha" moment that turned on the lights.
One thing I desire to make perfectly clear right now is that none of this is our fault, but it most certainly is our responsibility. Without owning up to where things stand, we have zero chance of making any significant changes in the direction we wish to go.
So just because we have been programmed to fail by many well-meaning, as well as not-so-well-meaning, folks and organizations throughout our lives, we now have the opportunity to change things up a bit. And the interesting thing about this is that in order to do this, we must embrace and live with the uncertainty which we most earnestly resist.
No Need to Freak Out
When we eventually jump in and deal with the uncertainty without resisting or running away, we discover that everything is okay. Actually, uncertainty about how things play out in different areas of our lives is what keeps things interesting and adds some spice to our journey.
The key here is that we do not need to have all the answers, and know exactly how to do this or that to meet any challenge or situation confronting us. When we allow things to be, we create the space for the answers to arrive. We do not have the energy of our resistance to keep our solutions and answers away. We stop fighting ourselves and others, and life begins to flow.
When we are in this state of mind and presence, we are able to stay focused on what is in front of ourselves to handle in the moment. Answers to our requests arrive as need be and not before. So many times in the past when we did not get an answer (we really did but did not recognize it for what it was), it was because of the wall of resistance that we constructed to keep it from us.
Uncertainty is our friend. There is no need to panic and freak out about how we are going to handle any problem or challenge. Even in extreme circumstances, we can only do our best given our current situation. When we do our best at all times, we never have any regrets about giving up or seeing things as hopeless.
Living With The Uncertainty — There is Always a Solution
With the proper mindset, we know that there is always a solution no matter what are problems happen to be. Sometimes that solution is to just surrender and allow things to be as they are. We stop fighting our circumstances and allow things to play out.
When we are in this state of mind we are open to intuitive insights, which will guide us along the way as long as we are listening, and not getting caught up in the current drama. It is what it is, and we only can do our best by trusting our inner self to provide the way.
In business, for example, we are anxious at times to make things work, and we get in our own way. When we are not patient, we jump in and try to make things happen, instead of letting things happen. It's the difference between being in or out of the flow of life.
Solutions are always there and will appear in the right way and at the right time. We are the only ones that can stop them from arriving by our fears and doubts.
By staying focused only on our desired results and outcomes, we put ourselves way ahead of the field in any area of endeavor which we are pursuing. We see the light at the end of the tunnel and do not get caught up with the day-to-day details which will naturally be taken care of.
In other words, we allow the solutions to appear at their own designated time. We don't give up just before we were going to arrive at our destination, because we know we will arrive. Uncertainty can be a trap for us if we do not befriend it.
Ironically, it is this uncertainty that powers us through in order to discover what we need to know to accomplish our goals and objectives. When we learn that uncertainty is our friend, life becomes a much more enjoyable journey.
A Whole New Ballgame
When we accept our uncertainty, we can then surrender to our present circumstances. We have now positioned ourselves in a way where we cannot fail. Whatever happens, is for the best. We see things differently and experience the joy and excitement of the moment. Existence takes on a new way of Being. We are happy to be alive.
This becomes a whole new ballgame where we are not playing to win or lose, but just to enjoy the game. We are able to win or lose with the same level of enthusiasm for life. It's living that matters, and we allow all the good stuff to just fall into place.
None of this is possible when we are so caught up with the stray distractions and dramas of life, and give them unnecessary meaning. Instead of dealing with our problems and challenges, we freak out about them, and in some cases make things worse. In any event, we are not handling things productively.
Let's make a commitment to let go and choose to enjoy the challenges of life, and the uncertainty that life brings. Life is too short to freak out about all of this. When we open up a bit and allow this to occur, we discover an interesting fact. The uncertainty we spent so much time resisting has actually provided us with the Certainty we were seeking. Our outcome has become certain, because of the adventure which our uncertainty has provided.
>>>>Click Here<<<< when you are tired enough of the Uncertainty and False Promises of the Online Marketing Game and desire an Effective Way to Grow an Online Business.
Be Always open to what is Possible,
Joseph William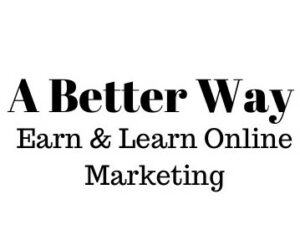 Click Above for Online Marketing information