There are those folks who are in the baby boomer category (born between 1946 and 1964) who find themselves not in any romantic relationship for whatever reason. Thirty-three (33%) percent of baby boomers are single. Because of this niche, many online sites and services have sprung up to address this baby boomer dating niche.
As with any other type of dating service regardless of one's stage of life, it is important to do your research, take a few precautions, and understand exactly what is going on. So let's review a few tips to consider before entering the dating arena.
"I love a man with a great sense of humor and who is intelligent – a man who has a great smile. He has to make me laugh. I like a man who is very ambitious and driven and who has a good heart and makes me feel safe. I like a man who is very strong and independent and confident – that is very sexy – but at the same time, he's very kind to people."
Baby Boomer Dating — The Online Mystique
For people in the baby boomer category, dating consisted mostly of meeting people at school, social functions, clubs, and bars, as well as through family and friends. There were no online options back in the day.
Since this is new water to tread, it's good to get familiar with the environment.  There are definitely a few sharks in these waters.
Research has shown that the number of baby boomers entering the dating game is increasing at a rapid pace.
This may be because of divorce, separation, or a deceased spouse. There may be a long gap of many years since this transpired, so this whole process can be overwhelming and nerve-racking. But since we as human beings crave companionship, we are willing to take the leap.
When younger it was easier to meet people at work, clubs, and bars, but as we age our options tend to narrow. That is why so many boomers have entered the online world of dating. Many have found this to be a very productive and fun way to meet new people.
At the same time, it is important to locate a trustworthy and reliable online dating service. And once registered, it is imperative to be specific about the type of person you desire.
For those who only want to initially dip their toe into the deep end of the online dating game, there are group dating clubs available as well. You get together with like-minded people for various activities of interest such as painting, cooking, fishing, pottery, chess, golf, tennis, bird watching, poetry readings, and other types of gatherings where you mix and get to know each other a bit better. You make friends in a group setting and go at your own pace.
Staying Safe with Baby Boomer Dating 
In this crazy world of ours, it is important to stay on your game and put safety first, whether meeting someone online or at the local pub or dress shop. Unfortunately, people are not always who they portray themselves to be.
I have spent some time in Asia where there are various services to attract seniors to meet locals for dating and marriage. While there are legitimate firms that provide valid dating services, there are many con artists as well. Many of these inscrutable people are very convincing and believable and are not shy at all about taking advantage of foreigners with a few bucks in their pockets.
They are much more interested in your money and property than your companionship, so they are full of false promises. Especially if contemplating any type of long-term commitment, it is very wise to do some thorough investigating and obtain a background check.
Your Time is Valuable
Life is short so it's important not to waste time trying to make this dating process work. Trust your intuition and have fun with this process. If you feel something is off with a potential match just move on.
Many of these websites are fun for socializing, as well as finding people to engage in enjoyable activities including travel. It's important to have fun with this, and not take this too seriously. If you find yourself getting a bit intense with the process, take a break and just let others approach you off of your profile.
Whatever your parameters are in finding a suitable companion do not deviate and settle for less. Be true to yourself and don't waste time with people who do not fall within your parameters. Be as choosy as you would like to be as this is your life, and you want your time invested well.
Baby Boomer Dating  — Health and Wellness in a Happy Relationship
When we are happy and surrounded by people whom we like and trust, we feel good. Happy relationships lead to wellness and health. Living from our hearts allows us to express our true essence and function at optimal levels.
Because of this, it is critical to be very selective with whom we spend our time. There are a lot of very good single men and women who use online dating because they simply don't know where to go or what to do to find a fulfilling relationship with a person with whom they can enjoy spending time.
For the longest time, I thought all these online dating sites and personal ads were useless and only for desperate people. Now twelve and a half (12 1/2) years later I am still with the love of my life whom I met on an online site, and it took less than ninety (90) days. In fact I think we corresponded after only thirty (30) days and met face-to-face a month or two later.
So from personal experience, I can tell you that you can meet that special person for whom you are looking, but there are some things of which to be aware. In order to avoid turning your online experience into another version of the bar scene, here are a few ideas to consider.
It's important to gather the correct knowledge and skills about the dating game, and have the right mindset going in. With these, you greatly increase your odds of finding an appropriate person online.
One thing to consider is to create in your mind, and even on paper/word document if you prefer, a detailed description of your ideal mate. You need to know what you want to get what you want. Otherwise, you will waste your valuable time chasing after false images. Define the qualities and characteristics in a person which are important to you, so that you will recognize the person who is right for you.
The next point relates back to the safety factor in that it is important to screen people thoroughly. With online dating, you are presented with plenty of information to review. Their profile as well as how they interact online and on the phone will provide plenty of clues to discern if they are being authentic, or just trying to play you. When you take the time to do this, folks who misrepresent themselves and are lying will provide plenty of red flags which will be obvious.
Don't ignore any red flags because you are enamored by the person. You will be doing yourself a disservice and setting yourself up for much hardship in the long run. When you get really good at screening folks online, the dating game becomes a fun activity.
Finally, as I mentioned before it pays to be choosy. Don't be afraid to say "next". Your time and energy is too valuable to waste on people who are not the right fit. This becomes easier when you have a clear picture of the type of person for whom you are looking. Spend your time looking for the right person, and not waste it on the wrong ones. Just like sales, online dating is a numbers game.
Baby Boomer Dating — Have Fun and Enjoy the Process
As a baby boomer, online dating may or may not be something you wish to pursue. But as there are more and more boomers who are jumping online to find their mates, I look forward that this article providing some insights for those who choose this avenue.
As my motto has been for many years, "if it isn't fun, don't do it", this also applies to the online dating scene. If you are not going to enjoy this way of meeting people, don't do it. But if you may be interested in other ways of expanding your social circle, this can be a viable alternative given the precautions and tips mentioned above.
No matter what our age, it can be a challenge meeting new people with whom to develop various types of relationships. As we age the social scene can seem even more challenging. I look forward that if you do choose online dating you have a very fun and worthwhile experience.
And for those who enjoy sharing their experiences and skills while making a few bucks, as a result, check out my article on Baby Boomers and Marketing.
>>>>Click Here<<<< For those who wish to expand their business as well as their social circle Check Out this Online Training Platform.
Enjoy the Process,
Joseph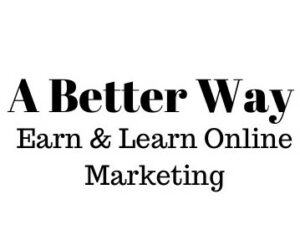 Click above for Online Marketing information