Whatever we do in life it is a journey, not a race. It may take a minute, an hour, a month, or a year or more. None of that makes a difference when we have a clear destination of where we truly want to go. The first step is "to begin". The size of the step is absolutely irrelevant to easing our way out of our comfort zone.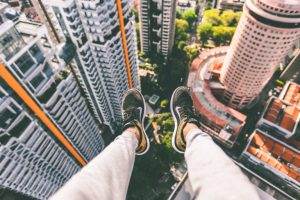 Successes and mistakes along the way make the journey fun, as long as we "know" our destination, and getting there is something that excites us. Passion then becomes our fuel.
The Challenge Of The First Step
Whenever we are faced with a challenge that takes us beyond our usual self-imposed limits, we do experience a bit, or at times a lot, of fear and trepidation. This is to be expected and can be handled one little step at a time.
The biggest challenge is often just to get started. Once we do, we are surprised by what opens up before us, leading us in directions we never would have considered.
After that, it is just a matter of taking the next step.
What's Next?
When we focus only on the next step on our journey, which we are able to "conceive" as doable, because we have already taken that first step, then we are able to move forward without procrastination.
Granted, there are times that we need to take a leap of faith so to speak and jump into that deep end of the pool, but normally we are able to ease our way out of our comfort zone little by little. We then realize that our comfort zone wasn't really all that comfortable at all.
Dealing With Uncertainty
When we expand our comfort zone, we are venturing out into new territory; that can be a little scary. But this is where the rewards of our efforts reside. We discover things about ourselves which we never knew before. We just feel good about what we are doing, even when we are not absolutely sure how to do it.
We become like kids again where learning is fun and adventurous.
At this point, we begin to welcome uncertainty and look forward to what the next moment will bring. Our potential is unlimited, and we discover this by easing our way out of our comfort zone.
For those who would like to begin a new adventure in learning and business building, check out my review of this incredible Community of Successful Entrepreneurs. These are a bunch of folks at all different levels of success, who have one major thing in common:  they are all Easing Their Way Out of their Comfort Zones.
The magic really is in the Present Moment!  Each moment is precious, and that is where all the "Action" is.
All the very Best,
Joseph
P.S.  I welcome your comments, and also your sharing of where you are, and where you would like to go. Click Here for a FREE Trial of My Recommended Online Training Platform.