So where is Liechtenstein exactly? Located between Switzerland and Austria, this tiny German-speaking principality gets less than ten (10%) percent of the tourists that its neighbor Switzerland receives. But this little find in the Upper Rhine valley of the European Alps has plenty to see and offer.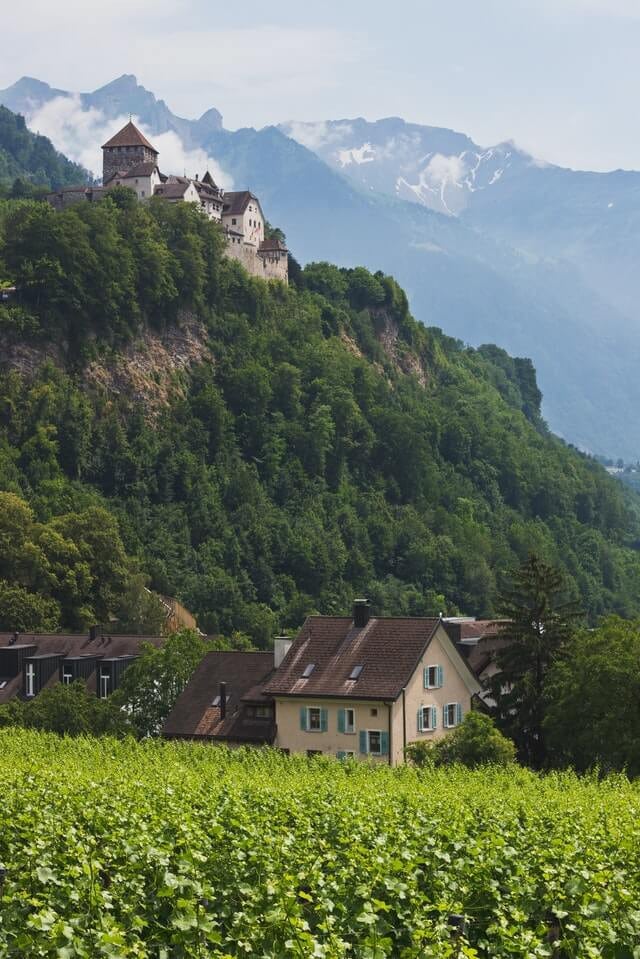 With its alpine villages and landscapes, medieval castles, and fantastic scenery, you will not be at a loss for things to see and do. The financial and cultural center is located in its capital city of Vaduz. There you will find contemporary and modern art at the Kunstmuseum Liechtenstein and an interesting display of the country's postage stamps can be found at the Postmuseum.
A Historial View
Located in the southwest of Central Europe, we have to go back to five thousand three hundred (5300) BC (Middle Paleolithic era) to discover the roots of this country. Farming settlements were the first to be discovered.
The Helvetii were prominent in the Alpine region, and later Liechtenstein was integrated into the Roman Empire as part of one of its provinces. Like the rest of Gaul, the Helvetians were Romanized by the second (2nd) century AD. Toward the end of the third (3rd) century, Rome's control over the region dissipated.
The Swiss plateau was then subject to invasion by the Alemanni, who with the Burgundians set up permanent settlements on the plateau in the fifth (5th) and sixty (6th) centuries. It became part of the Frankish Empire later in the sixth (6th) century.
The country's name came from Liechtenstein Castle and a family in Lower Austria. In 1719 the lands were purchased by Prince Johann Adam, and the country officially became a sovereign member state of the Holy Roman Empire in 1806. Over the years there was much political restructuring, but the state did not owe any obligation to any feudal lord beyond its borders.
In the early nineteenth (19th) century the country joined the German Confederation that was presided over by the Emperor of Austria. Through World War I Liechtenstein was closely tied to the Austrian Empire and later to Austria-Hungary. The country was neutral during World War II.
Because of its low corporate tax rates, in the late 1970s, many companies were attracted to the country, thereby becoming one of the world's richest countries. They currently enjoy one of the world's highest standards of living.
A Few Interesting Facts to Consider
Its government is set up as a semi-constitutional monarchy
The current Prince of Liechtenstein is Prince Hans-Adam II (powers are those of a president in a semi-presidential system)
It is Europe's fourth (4th) smallest country and the smallest country that borders two (2) countries
The currency is the Swiss Franc (1 Swiss Franc= $1.10 USD)
German is the sole official language of the country (standard German) but most speak the Alemannic dialect of German with other German-related languages spoken as well as English)
The population is approximately thirty-eight thousand seven hundred and forty-nine (38,749)
The country is divided into eleven (11) municipalities with its largest municipality being Schaan
Uzbekistan is the only other doubly-locked country in the world
The country has one of the highest Gross Domestic Products per person in the world when an adjustment is made for purchasing power
It is a winter destination for many because of its mountainous terrain
It is not a member of the European Union but does belong to the United Nations

Even with its limited resources it has more registered companies than citizens. It has a highly industrialized free enterprise type economy
Its main industrial base consists of textiles, pharmaceuticals, metal manufacturing, food products, calculators, electronics, precision instruments, anchor bolts, and power tools. It produces corn, dairy products, livestock, wheat potatoes, barley, and wine.
Its largest employer is Hilti; a company that manufactures direct fastening systems
The literacy rate is one hundred (100%) percent

A railway traverses the country connecting Switzerland and Austria, and they have an extensive road network. Bus service is available as well. Zurich Airport is the largest international airport close by.
Football (soccer), downhill skiing, motorsports, tennis, and swimming are popular here
The entire country is invited to Vaduz Castle every August 15th to celebrate the national holiday with the prince and royal family. This is a fun-filled affair with plenty of food and drink as well as traditional dancing.
The country has no military
Things to See in Liechtenstein
Mountain scenery, castles, museums, hiking trails, and picturesque valleys are just some of the attractions. There are plenty of things to do in Liechtenstein and with relatively few tourists you can practically have the place to yourself. Once out of Vaduz there are hardly any tourists.  It's just a gorgeous setting in the midst of the Rhine Valley and the Central Alps. Let's start out with a short video that will give you a glimpse of this beautiful country.
* Vaduz Cathedral — also known as the Cathedral of St. Florin, it is a very recognizable landmark situated at the end of the main street. This Neo-Gothic cathedral was constructed in 1874 and is well worth your time visiting.
* Hiking Trails — with its gorgeous alpine valleys and mountains this is definitely a great way to get some exercise and check out the beauty. Take the forty-six and a half (46.5) mile (75 kilometers) Liechtenstein Trail to catch a glimpse of some great sights (135 areas of interest) as well as quaint villages and beautiful wildflowers. The hiking trails are in great condition with plenty of signposts. There are many castles and historical sights along the trail.
* The Rotes Haus in Vaduz — known in English as the "Red House", it is one of the oldest buildings in the entire country being constructed in 1338. It sits in a very scenic area surrounded by mountains and forests.  Although you are not allowed inside, it is still worth the visit because of its natural setting, gorgeous landscape, and its red brick exterior with a tower. It is a wonderful sight to see, and the surrounding area is filled with vineyards and traditional homes to explore.
* Kunstmuseum Liechtenstein — opened in 2000 this museum of fine arts has an impressive architecture as well as a vast collection of contemporary and modern artwork. Occasionally there are some pieces from the prince's private collection on display as well. The majority of the art is from local artists with a few works from international creators.
* Wine Tasting — you can actually go wine tasting in the prince's cellars. This is high-quality wine, and you can sample a number of reds and whites at the Prince of Liechtenstein Winery in Vaduz. Its vineyards provide a very scenic setting in the middle of the Rhine Valley. There are a variety of trails to accommodate skiers of all levels as well as a Kinderland Park for kids wanting to learn how to ski.
* Skiing — this is a great area for skiing enthusiasts. The top place in the country is Malbun, a mountain resort with lots of slopes to ski and snowboard.
* Vaduz Castle — first mentioned in the history books in 1322, this charming castle overlooks Vaduz situated on a hillside surrounded by mountains. It's about a twenty (20) minute walk from downtown Vaduz. The scenery is fantastic and well worth the visit. Since the royal family still lives there you can't get inside to check things out. You can learn about the royal family and castle on the walk up the trail since it has plenty of information points and signs.
* The Village of Triesenberg — located in a beautiful part of the Alps this village is totally gorgeous with its fantastic landscapes and relaxing atmosphere. Set against the mountain slopes and beautiful views of the countryside.
* Have Lunch in the Mountains — go to Berggasthaus Sareis restaurant which is located at an elevation of six thousand five hundred and sixty-one (6561) feet (2000 meters) above sea level with fantastic views. In addition to the magnificent sights, the food is outstanding. The surrounding area also provides great skiing and hiking trails.
* Liechtenstein Tourist Office — though not required, it is a novel experience to get your passport stamped by one of the smallest and least visited countries in the world. It is one of the rarest stamps in the world since the country only has about seventy thousand (70,000) visitors each year.
* Gutenberg Castle — this is one of the favorite castles to visit. It has a majestic setting with a rose garden chapel you can tour during the summer months. Guided tours are available.
* Postage Stamp Museum — it is actually part of the Liechtenstein National Museum and it educates you on the history and use of stamps in the country over the years, as well as how they have been used over the entire world. In addition to the stamps, the printing presses are also on display.
A Small but Most Interesting Country
As you can see from what we previously discussed, this is a country worth visiting and that has much to offer. Even though tourism makes up a good part of its economy, it does get much less activity than its neighboring countries, plus there is never a lack of finding what to do in Liechtenstein.
This country is definitely a hidden gem in the Central Alps. A great place to stay is the Hotel Schatzmann in Triesen which is about a mile from Vaduz. Another nice place is the Hotel Oberland in Triesenberg.
No doubt this is a great place for hiking and skiing, but as you can see this microstate offers so much more. Since it is so small, it is easy to get around, and it's a quick jaunt over to Switzerland as well. In Mauren you can explore a bird sanctuary while enjoying a warm cup of coffee.
This is not a place to visit to do the traditional tourist thing, but instead, it is a great place to relax and enjoy nature's beauty as well as absorbing the history and charm of this hidden treasure. Be prepared for an authentic experience.
Happy travels,
Joseph
P.S. Learn online marketing and take your business with you as you travel. Here's my #1 Recommendation.