In this article, we will explore what to see in Kyrgyzstan, which is located in Central Asia. It is landlocked with China to the east, Kazakhstan to the north, Tajikistan to the southwest, and Uzbekistan to the west.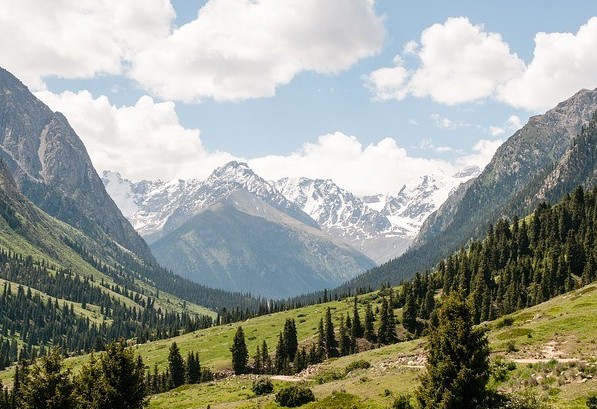 It is actually along the Silk Road which is the trade route between China and the Mediterranean that goes back to ancient times. This old trade route is surrounded by the Tian Shan Mountains.
What To See In Kyrgyzstan — A Little Bit of History
The history of this Central Asian country encompasses over two thousand (2000) years. This includes many empires and cultures. Because of cultural and commercial routes such as the Silk Road, this country has been influenced by several civilizations.
Many independent tribes and clans have inhabited the area as well as being taken over by foreign countries. This went on for quite a spell until Kyrgyzstan gained independence in 1991 after the Soviet Union collapsed.
Although it still experiences transitional governments and political conflicts, it has been established as a unitary parliamentary republic since it gained its independence. It is a member of the United Nations.
In 2005 the Tulip Revolution took place resulting in a new government being formed. Political stability has been quite elusive since then. The current President is Sooronbay Jeenbekov, who was the former Prime Minister. He was elected on October 16, 2017, and took office on November 23, 2017.
Even with this type of instability, there have not been any violent disputes since 2010, so most of Kyrgyzstan is safe for visitors. That being said, there still are tensions in a few areas of the country of which you need to be aware should you visit; these are mostly over the recognition of the Kyrgyz/Uzbek borders.
Now For Some Facts
Its largest city and capital is Bishkek
The official languages are Kyrgyz and Russian (having been a former Soviet bloc nation)
The climate varies quite a bit dependent on what region of the country you are in. For example, the northern foothills are rather temperate, while the Fergana Valley (in the southwest) gets rather hot in the summer with temperatures as high as 104 F (40 C), while the Tian Shan (Mountains of Heaven) vary quite a bit dependent on elevation. In the lowlands, you have temperatures between 21 F (-6 C) in January to 75 F (24 C) in July. In the coldest areas of the country, you get sub-zero temperatures for about forty (40) days each year.
Agriculture is a major part of the economy.
The population of Kyrgyzstan is approximately 6.4 million. The country is rich in mineral resources predominately in the areas of uranium, gold, antimony, and coal. Consequently, metallurgy is a main industry. The country has plenty of water resources which allows them to export hydroelectric energy.
Horseback riding is an important part of the culture which is reflected in their national sports such as Ulak Tartysh which is a mixture of polo and rugby. Football (soccer) is the most popular sport.
The currency in Kyrgyzstan is Kyrgyzstani Som (KGS).
You can travel by car around the country but the road infrastructure is not extensive because of the country's alpine topography. There is a major highway linking the north and southwest of the country. The main transportation option when traveling in certain areas of the country is horseback. There are a few rail lines in the country linking certain areas as well as bus service.
The main international airport near Bishkek is Manas International Airport.
Kyrgyzstan has a visa-free regime for citizens of more than 40 countries.
What To See In Kyrgyzstan — Let's Find Out
Before we get into the specifics let's check out this short video to get visually acquainted with this area of the world.

Traveling to Kyrgyzstan makes sense if you are into pristine nature. Crystal-clear mountain lakes, gorgeous valleys, mountain rivers, rare species of animals, and rich fauna and flora. The people of this country were primarily nomadic right up to the second quarter of the twentieth (20th) century, and even today the Kyrgyz practice a semi-nomadic lifestyle.
The people have a rich cultural heritage which has been preserved and evident in their folklore, national games, and handicrafts. The Epic of Manas are novels written by well-known Kyrgyz writer Chyngyz Aitmatov depicting this culture and lifestyle.
Lake Issyk-Kul is a very popular tourist destination. It is the second deepest lake in the world at two thousand one hundred ninety-one feet (2191) feet (668 meters). It is called "hot lake" because the saline lake never freezes as it is fed by numerous hot springs. You get amazing views of the mountain peaks surrounding the lake. The protection of the peaks provides a mild microclimate for this area. Sailing is a popular pastime on the lake. On its northern shore, you will find resorts, hotels, and houses you can rent.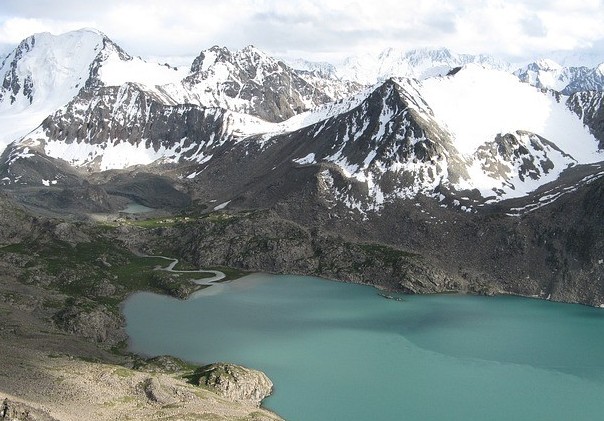 But actually, there are more than two thousand (2000) mountain lakes in the Tien Shan mountain range. There have been many stories about the origin of these lakes. At nine thousand eight hundred and forty-two (9842) feet above sea level (3000) meters, Lake Son-Kul has many yurt camps along its shore where you can get a firsthand view of the mountain traditions of Kyrgyz nomadic culture.
For those interested in checking out the beach scene the city of Cholpon-Ata and the areas close by like Korundy, Bosteri, and Kara-Oi (Dolinka) will keep you busy and entertained. Cholpon-Ata is on the northern shore of Lake Issyk-Kul and is a popular resort area.
For those into camping the best places are in southern Osh which is located between Naryn City and the Torugart Pass. To get around easily you can hire a local guide and porters are also available.
Skiing is also available in the Karakol National Park and Toguz Bulak. There are thirteen (13) resorts for skiing with several accommodating overnight stays.
The Great Silk Road is a must-see. For a couple of thousand years, it was a main trade route connecting Western and Eastern civilizations. There is a diverse group of people and cultures along its route. A primary part of this route passes right through the Land of the Kyrgyz. Since three (3) trade routes went through Kyrgyzstan during its heyday, UNESCO named the Chang'an-Tianshan Corridor a World Heritage Site in 2014. The Tash Rabat Caravanserai in Naryn Province is a well-preserved example of fifteenth (15th) century lodging for the travelers of the Silk Road. You can visit all these sites and areas either by vehicle, motorbike, bicycle, or horseback.
Since the ownership of livestock was a measure of material wealth, meat is the main staple in Kyrgyz cuisine. Goat, lamb, and beef from livestock grazing in the mountain pastures, are plentiful for the local families and their guests. Beshbarmak ('five fingers') is a standard part of the menu. It is lamb boiled with wheat noodles and then spiced up with "chyk", which is a spiced onion sauce. You enjoy this dish with the favorite drink of the nomads, Kymyz, sour mare's milk. Most meals begin will other meat delicacies and sausages.
There are many ancient and sacred sites to check out in this area of the world. You will not be at a loss in locating burial grounds near battlefield sites as well as petroglyphs on the walls of mountain caves. Some of these date way back to the eighth (8th) century BC. There are about five thousand (5000) cultural and historical locations across the country that reflect the ancient past of Kyrgyzstan.
The Chu River is a place for whitewater sports. Raging rapids draw many folks from around the world for rafting and kayaking. Also with the rugged mountain terrain, there is plenty of opportunities for mountain climbers. The well-known Pobeda and Khan Tengri Peaks – both exceeding more than twenty-two thousand nine hundred and sixty-five (22,965) feet (7000 meters) in height offer plenty of challenge to any climber.
What To See In Kyrgyzstan — Other Reasons to Visit 
One of the main reasons to visit here is to experience the nomadic traditions and heritage of this culture. The mountain meadows are called jailoos, and you will find many families during the summer months grazing their herds.
The Kyrgyz people consider sports to be the key to healthy living with a strong spiritual base as well. Old customs and ways are preserved throughout the culture and are a major part of the identity of these people.
Over many years the nomadic clans of Kyrgyzstan have had a well-known reputation for hospitality. Visitors are most welcome with openness and kindness. There are three (3) kinds of guests: the mildetuu konok are the obligatory guests who arrive for special occasions such as weddings. The  taanysh konok are familiar guests who are distant relatives and friends, and then there are the kydaly konok, or 'god's guests,' who are visitors and travelers.
The Tien Shan and Pamir-Alai mountain ranges offer plenty of scenic beauty with twenty-nine peaks and live up to its reputation as the Land of Celestial Mountains. There are also over two hundred trails for horseback riders and hikers. There are also over fifty (50) national parks and forest reserves where you can be among pristine nature. The locals find horseback the most efficient means of transportation when traveling through these areas.
When traveling through various areas of Kyrgyzstan you have many opportunities to stay with local families or in yurt camps where you get a good feel for what nomadic life was like years ago. They are warm shelters during cool mountain nights at high altitudes.
Given all the ancient culture and many beautiful sites to explore, Kyrgyzstan may just be a place that you may want to explore at some point in your travels.
Enjoy and All the Best,
Joseph William