In this fast paced technological world of ours, it's so easy to get distracted when looking for solutions to challenges.  One way to begin our search is by learning the art of asking the right question.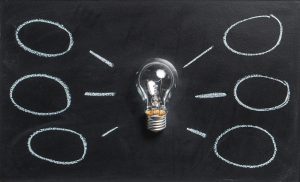 Whenever we feel lost and on our own, it is best to just surrender and let go.  At that point we are able to access a much greater intelligence to which we are most definitely connected.
So What Do I Ask?
To get started, determine what your desired final result is.  Once you know what you want to have you can work backwards in determining the steps required to get there.
At this point, you actually know what you have to "do" to get to your destination.  Otherwise, you will most probably find yourself taking random actions, running around in circles, and then wondering why you are not making any progress.
So formulate your question specifically attuned to your goal or destination.
Trusting Ourselves
Learning to trust our instincts or intuition, allows us to make decisions from our heart, and not our head.  When we do let go and allow this source of wisdom to come through, we amaze ourselves with what we are able to accomplish effortlessly.
It is very important to realize that no matter what circumstances we find ourselves, there is most definitely a solution to our challenge.  It may be just a minor issue such as what to buy someone for the holiday, or something much more critical related to our family or business life.
Once we trust ourselves in making decisions on small things, our confidence grows which allows us to make major life choices "knowing" that it will all work out fine.
Mistakes Are Okay
Even when we form the habit of asking questions related to our final result, we will still make mistakes along the way, which is totally fine.  We know we are headed in the right direction, and merely need to make a few adjustments here and there.
At this point our journey through life becomes a fun adventure, where we are not attached to our final result having to happen in a certain way and in a certain time period.  At this point, it's all good.
Receiving Our Answer
It does not matter the size of the issue, as when we quiet the noise in our mind, and trust the answer is there, we can then be certain that a solution is on its way.  At this point, it is best to relax, and occupy our time with some unrelated activity, as we are now prepared to receive with gratitude and joy.
Once you get the hang of this, it is a fun process of finding solutions in all areas of our life.  We look to ourselves first, before rushing off to some presumed authority who may or may not have the proper solution for us.
The "Art of Asking The Right Question" is well worth the time investment so that we have a valuable resource on which to call upon as needed.
For those of you who are looking for a few answers on how to create additional income, check out my review about this Online Training Platform.  This may be the answer to your question.
If you have any comments or questions, please let me know.
All the Best,
Joseph